There has been a lot of talk about this book. Kimberly embarks upon a journey of discovery as to why.
Who wrote it?
Kate Atkinson, perhaps most recognizable to many for her multiple-award-winning Life After Life (which I will admit, in the interests of being honest from the outset, that I haven't actually read yet; it's now moved to the top of my to-read list).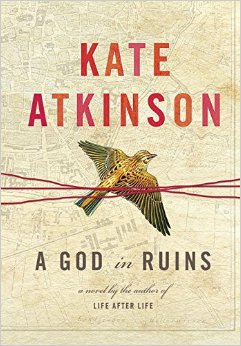 What other books did it remind you of?
This is a novel in the most traditional, most old-school and ambitious sense of the word, so by that fact alone it actually kind of reminded me of Donna Tartt's The Goldfinch. However, where Tartt's Goldfinch is a bildungsroman of impressive scope, A God in Ruins is a 400-page tale of the second world war and it's aftermath as told through the lens of a single family, and centred in particular one character: Teddy Todd. (As explained in the author's note at the end of the book A God in Ruins is a 'companion' to Life After Life, in the sense that Teddy is the brother of the previous book's protagonist, Ursula Todd.)
What issues/themes did it raise?
Probably the most obvious theme underpinning the ambitious scope of the tale this novel tells is that of war, the effects both during and after it, and the break between a generation that lived through war and that of their children, who not only don't appreciate the cost of the freedom they enjoy but don't really care to either.
This novel also interrogates the power of fiction, and of the imagination itself. It plays on fiction's enduring power to make us empathise with (or, conversely, despise) characters, and in doing so engages with the great tradition of novel writing itself. As Atkinson points out in her note at the end of the book:
Personally I think that all novels are not only fiction but they are about fiction too. (Not, I don't think, as post-modernly self-referential as it sounds.) I get tired of hearing that a new novel is 'experimental' or it 'reinvents the form' as if Laurence Stern or Gertrude Stein or indeed James Joyce never wrote a word. Every time a writer throws themselves at the first line of a novel they are embarking on an experiment. An adventure.
Furthermore, this novel reads as a patchwork of memories. A chapter or section may start in the present day and, quietly and without you even realising it's happening, will shift through the web of a characters remembrances to a time twenty, forty, even sixty years previous. In doing so, A God in Ruins illustrates how the past always comes to bear on the present, even if we're not aware of it; that the present is nothing if not a construct of all the various moments that have come before.
What did it leave you thinking about?
To be honest, A God in Ruins made me think a lot more about the reality of what it must have been like to be a fighter pilot during the war! It's silly but also probably not surprising that, much like Teddy's grandchildren (who are of the same generation as me), I had never actually thought about what it would have been like, on a day-to-day basis, to go up in those planes not knowing if you'd ever come back. War is often put in front of us as an idea representing different things – depending on your politics, it could be patriotism and freedom, or it could be unnecessary violence and suffering for the sake of a powerful few – but it's not something I often take the time to consider on the level of the individual people and families embedded in it. It must have been terrifying.
Would you recommend it to others?
If you want something to really sink your teeth into, a novel to sit down by the fire with and read while you drink multiple cups of tea and eat many cookies, then yes. It's not a compulsive read, but rather a gentle and gradual unfolding of a humanly vast and complex story … and the ending on its own is worth reading the book for. If you like your novels novel-y, you'll like A God in Ruins.
Also, it's been lauded by the critics far and wide. The Guardian called it 'Atkinson's finest work, and confirmation that her genre-defying writing continues to surprise and dazzle', and the New York Times described it as 'a masterly and frequently exhilarating performance by a novelist who seems utterly undaunted by the imposing challenges she's set for herself'.
Now I'm off to read Life After Life …